"The only thing I can say is that Air Force made me what I am today" acknowledges International Arbiter Gopakumar Sudhakaran
who has been appointed as the Deputy Chief Arbiter for the Chess Olympiad at Chennai from 28th July to 10th August. 41-year-old Gopakumar, an Air force officer by profession, becomes the first Indian to be appointed to this prestigious and responsible post for an event hosted by India for the very first time.
Gopakumar is multifaceted and dons many hats with aplomb as he has won the Gold medal in 3000 meters Steeple Chase and Silver in Cross Country in Air Force and is a qualified Technical Official of Athletics Federation of India currently. Gopakumar has officiated as an arbiter in 3 Olympiads, one online Olympiad, for World Youth Championships, many Grandmaster events, Commonwealth Championships and Asian events. He was the fair play Officer for the World Rapid and Blitz at Warsaw this year.
What is the role of a chess arbiter in a tournament? Is it just relegated to watching the players in action and checking for fair play, managing Pairings are the questions a lay man may ask.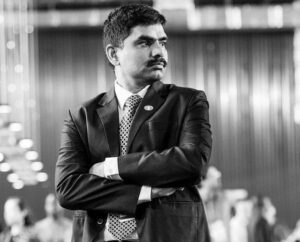 The duty of the arbiter begins right from checking the bathroom facilities, to arranging the boards and clocks in stipulated rule. The 'touch to move' rule is one which the arbiter has to ensure that the players follow. Interpretations of the technical draws and awarding them in accordance with the rules, handling cheating disputes, especially in online tournaments is another challenging task. Then there are calculations and alertness needed in assisting players with statistics while they hunt for their norms, to name a few. In Olympiad the number of players in action will be around 1400, so one can just imagine the magnitude of work.
Gopakumar's love for chess began after he maneuvered pieces on the 64 squares to be crowned Under-12 Kerala Champion. In 1996, his father an arbiter in a local tournament in his hometown Pattambi, Palakkad district of Kerala was assigned some urgent work and 15-year-old Gopa took over the Pairing and this accidental initiation took over his life despite him joining the Air Force in 2000.
After joining the Air Force, Gopakumar restarted his chess journey by representing Services in the Nationals. In 2003 he officiated as Assistant Arbiter in National Junior Girls Championship in Delhi and thus began a new career. He became a National arbiter in 2005 and an International one in 2009.
"I am indebted to Bharat Ji for encouraging me to pursue my interest and Air Vice Marshal J Rajendra and Air Force Sports Control board for providing much required support and also to my wife" says Gopakumar.